About Scuba Diving Khao Lak
Scuba Diving Khao Lak is amazing whether you are an experienced diver or you are just beginning. The warm, crystal clear, calm waters allow for countless marine species to thrive, and you can witness the beauty of these creatures and their habitats up close and personal.
A variety of scuba dive sites, featuring brilliantly colored reefs, immense rocks, and historical wrecks, are renowned as some of the best sites in the world, allowing you to explore all of the natural beauties below the surface of the water.
When is the best time to go scuba diving Khao Lak?
Khao Lak enjoys tropical weather throughout the year, with a dry season and a rainy season. Khao Lak typically does not receive an abundance of rain for long periods of time, as storms tend to be short-lived.
The rainiest months run from May through October, and the weather seems to remain dry and hot on most days of the year. Temperatures can range from 23 degrees Celsius, or 73 degrees Fahrenheit, at night, to 33 degrees Celsius, or 91 degrees Fahrenheit, during the day.
If you do not enjoy the heat, visit during the months of November through March, when temperatures are a bit lower and humidity drops, but visit in April and May if you really want to take in the sun and enjoy the warm water. Thanks to the climate conditions of Khao Lak, scuba diving Khao Lak is favorable all year round.
A Day In Khao Lak from lambo
Scuba dive sites found around Khao Lak
Koh Bon – Part of the Surin National Marine Park, this dive site features sharks, including whale sharks, as well as rays, octopus, and schools of tropical fish amidst the corals, sponges, and anemones.

Similan Islands – The visibility at the Similans is incredible, and thanks to their immense amount of marine life, from sharks to corals, these islands each has something unique and beautiful to offer, and they are known as one of the best dive sites in all of Asia.
Boonsung Wreck – There are so many fishes at this site, you may not be able to see the wreck on your way down to it, but once you do reach it, you will notice all of the coral that now call the wreck, which sank in 1979, home.

Sea Chart Wreck – This wreck dive is for experienced divers only who can get down deep to see the wreck of the MV Sea Chart 1 that sank in 2009.
Richelieu Rock – This world-famous dive site is one of the best in all of Thailand and is great for all levels of divers who want to experience this giant underwater rock formation that is teeming with sea life from tiny seahorses to giant whale sharks.
Would you like to go scuba diving Khao Lak ? Have a look at these: scuba dive operators in Khao Lak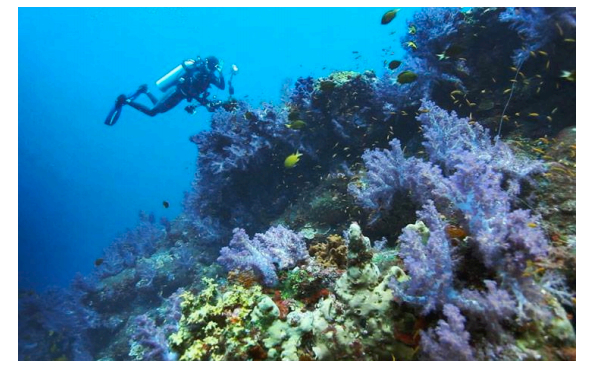 Marine life found when scuba diving Khao Lak
The warm waters of Khao Lak are host to an astonishing amount of sea creatures. Coral reefs here are full of life and feature corals of all kinds, from sea fans to hard and soft corals and sea sponges.
Stunning manta rays, octopus, reef sharks, leopard sharks, and whale sharks are regularly seen in these waters as well. Photographers will delight at all the colorful reefs and diverse sea life.
Fish are abundant, ranging from fusiliers, banner fish, barracudas, and cuttlefish to macro life living amongst the rocks.
About Khao Lak
Khao Lak, located on the west coast of Thailand, is one of the premier places in the country to visit, and it is quickly growing as a tourist destination for people from around the globe.
New shops, restaurants, bars, and resorts are opening up to give visitors a chance to enjoy the beautiful blue sea, the sandy beaches, and the natural wonders found in neighboring Khao Lak National Park and Khao Sok National Park.
There is so much to do and see here, and the locals are friendly and accommodating, making your journey all that more enjoyable and memorable.
How to Get to Khao Lak?
To get to Khao Lak, Phuket International Airport is the closest airport available. Once you arrive, you can get taxi or limousine service or rent a car to get to Khao Lak. You can also make your way to Khao Lak by bus from both Phuket and Bangkok.
If you choose to travel by car to Khao Lak, you can expect to travel for about one hour if you are leaving from Phuket International Airport. If you are leaving from Bangkok, the ride is very long, and it will take you approximately 11-12 hours to get to Khao Lak.
Article written by Rutger Thole who is an avid scuba diver and loves to travel, dive and write about scuba diving. Based in Amsterdam, he runs bookyourdive.com and at least twice a year he plans a dive trip of the beaten track.