About Scuba Diving Curacao
When scuba diving Curacao you can choose from more than sixty scuba dive sites.
Scuba divers of all levels come visit the island year round to (shore) dive the many coral reefs of Curacao. With so many fabulous dive sites it is hardly surprising that scuba diving Curacao is one of the most important attractions on this tropical island after beach combing.
This small jewel of an island attracts those with a love of nature both on and below the surface, the rugged and untamed beauty of the island lending itself to opportunities for fun and adventure. Curacao is dotted with hidden bays and secluded coves filled with beautiful golden sand.
Imagine you can reach some of the best scuba dive site from those beaches. If ever you have pictured your own paradise island, you will find that Curacao is everything that you wanted and more.
Scuba Diving Curacao
Curacao is formed from a deep ocean lava flow thousand of years ago. Just below the surface you can find stunning coral gardens that have fascinated scuba divers for many years. Both in the shallows and the deeper waters the sea is packed with a diversity of marine life that will exhilarate and enthrall.
Coral reefs, wrecks, shore and wall dives all await the diver who comes to scuba dive the waters of Curacao.
The island boasts a total of sixty fully identified dive sites. Some of the most impressive dive sites are found in the deeper waters though, and where the currents are strong it is advisable to dive with a qualified and experienced guide. Dive sites like the wreck of the Superior Producer seem easy to get to but the currents can be challenging.
Read more about scuba diving Curacao.
When is the best time to go scuba diving Curacao?
Unlike other locations in the Caribbean, Curacao lies outside of the hurricane belt which means that diving is rarely affected by the seasons. Scuba diving Curacao is done all year round, however some months see more people coming to the island than others.
Average Water Temperature: 25oC – 29oC
Average Visibility: 24 metres
Most Popular: Most diving occurs between September and December.
Protection: For colder months opt for a 3mm – 5mm suit depending upon the depth of your dives and a 1.6mm shorty in the summer.
Types of Dives: Wreck, Boat, Shore and Liveaboard dives.
Mut see scuba dive sites of Curacao
Tugboat: Situated just a few metres off Caracas Bay, this boat wreck is almost fully intact and covered in corals that are teeming with life. Submerged in 30 ft of water, this is a great dive for beginners or as one of your last dives of the day.
Mushroom Forest: Located in the area of St Nicholas this dive site is rich in vertical formations of star coral which due to natural erosion at their bases, have the shape of mushrooms giving the location its name. "Captain Good life" who is based on the beach will be more than happy to drop you on top of the reef.
Superior Producer (Wreck): Bad weather caused the ship's cargo to shift as it left the safety of the port, and the vessel went down; the wheelhouse rests at 80ft beneath the surface. The water here is rough with strong currents.
Porto Marie: Just a five minute swim from the beach takes you to the valley between two partial reefs, rich in colorful marine life and nurse sharks. This site is suitable for all scuba divers from beginners to advanced.
Read more about the best scuba dive sites in Curacao.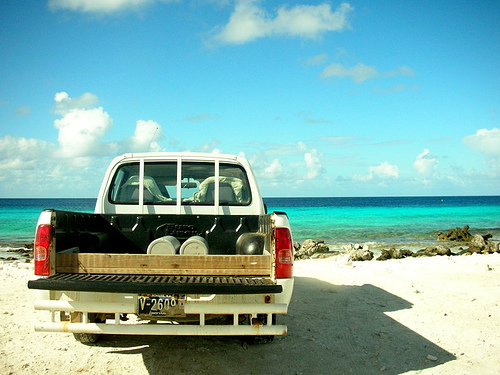 Marine life found in Curacao
Coral Formations
Giant Sponges
Barracuda
Moray Eels
Turtles
Spiny Lobsters
Manta Rays
Nurse Sharks
How to Get to Curacao?
Even though, Curacao is a small island it has an international airport which what is reported as being the longest airport runway in the Caribbean which can even accommodate jumbo jets.
Cruise ships also dock regularly at the island, either at the Mega Pier, which accommodates the vast ocean going cruise liners. Curacao is a popular stop for Caribbean cruises, and all of the terminals are located within walking distance of the main shopping areas.
Article written by Rutger Thole who is an avid scuba diver and loves to travel, dive and write about scuba diving. Based in Amsterdam, he runs bookyourdive.com and at least twice a year he plans a dive trip of the beaten track.