About Scuba Diving Bonaire
Scuba Diving in Bonaire is the main attraction of this Caribbean Island. Located to the north of Venezuela this beautiful but small island attracts thousands of scuba divers every year. Whilst on land there are plenty of diversions to keep the camera clicking it is beneath the waves that holds the major attraction for visitors to the island.
The most amazing draw of the islands diving is the underwater marine park which has been protecting and conserving the marine habitat around the island since 1979.. Did you know that Bonaire ranked #1 again as best shore dive destination in the world in 2014
Scuba Diving Bonaire
All scuba divers visiting the island are required to go through a dive orientation briefing before entering the water for the first time. One of the regulations stipulated by the National Marine Park is that all divers complete a check-out dive before heading off on their own. This is to ensure that all divers are fully aware of their buoyancy so that any possible damage to the reef is kept to a minimum.
The sloping reef follows the contours of the coast offering some incredible coral filled landscapes. Most drop offs are found at around 30ft from the shore. Divers on Bonaire can choose to dive over 90 dive sites many of which can be directly accessed from the shore. There are coral eefs to explore, wall dives to make and wrecks to discover.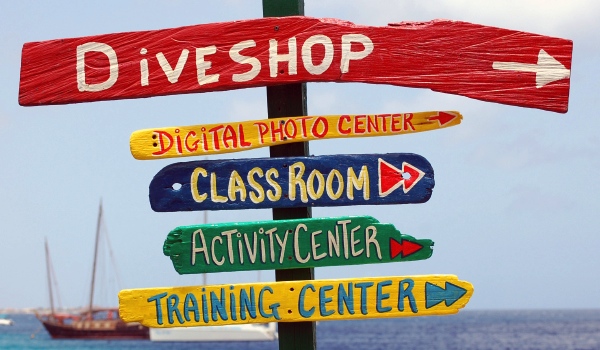 Best time to go scuba diving Bonaire?
Technically Bonaire lies below the hurricane belt but it does occasionally endure some storms during the hurricane season; June – November. However Bonaire is generally regarded as a good all year round scuba diving destination.
Average Air Temperature: 29oC – 33oC
Average Water Temperature: 25oC – 30oC
Protection: 3mm- 5mm Suit during the cooler months, shorty during the summer months
Typical Dive Depth: 9 – 27 metres
Average Visibility: 18-30 Metres (depending on the site)
For dives inside the National Marine Park a park tag needs to be purchased from the dive shop, and a diver orientation dive is taken to ensure divers are aware of the rules when diving inside the park. The tag is valid for a whole year should you want to revisit.
Dive Sites around Bonaire
Hilma Hooker (Wreck): This 236 ft long freighter sank in 1984 and rests in approximately 95ft of water (65ft at the shallowest point). It can be accessed via boat or from the shore. The visibility around the wreck is generally good.
Salt Pier: Diving around the pier pilings offers depths of between 40-70ft, and can be accessed by either boat or from the shore. If considering a shore dive permission needs to be granted first so check with the dives shops for the current procedure.
Karpata: A reef sloping downwards towards a practically vertical wall which reaches the sand below at around 130ft. The site can be accessed from either shore or boat, but from shore it's a longer journey than some of the other sites.
Bari Reef: This is a very easy shore dive which is popular with night divers. The site is situated opposite the Sand Dollar Resort and is accessed from the shore by a series of steps leading down from the pier.
Klein Bonaire: Bonaire's smaller sister island can be accessed by boat. This small island offers beautiful soft corals and a vibrant reef teeming with life.
Read more about: 5 of the Best Scuba Dive Sites in Bonaire
Marine Life found in Bonaire
Tarpon
Turtle
Seahorses
Frogfish
Nurse Sharks
Rays
Dolphins
Whale Sharks
Read more about: The unique underwater world of Bonaire
How to Get to Bonaire?
Despite Bonaire being an island, there is no ferry or shuttle service in operation between Bonaire and the neighboring islands of Aruba and Curacao. Of course you may be able to charter a vessel of your own should you wish. Currently the only way to get onto the island is by plane, unless you are traveling aboard a cruise ship that makes stops at the island.
There are no direct international flights to Bonaire, so traveling to the island will require you to take a connecting flight. Flights can be arranged individually by travelers or booked through a specialist travel company. If you would like to visit Bonaire from one of the neighboring Islands by plane have a look at the following operators:
Article written by Rutger Thole who is an avid scuba diver and loves to travel, dive and write about scuba diving. Based in Amsterdam he runs bookyourdive.com and at least twice a year he plans a dive trip of the beaten track.