Did you know that on the second of April Ulithi, an Atoll in Micronesia took a direct hit from a category 5 super typhoon? As you can see from the picture above, there is not much left and there will have to be a 100% rebuild of the island.
Together with our friends of Palau Dive Adventures we are organizing a raffle to raise money for the people of Ulithi. The grand prize:? A dive packages + accommodation in Palau for 2
To help this small island Atoll and to make a chance to win the grand prize we kindly ask, for your small donation of $25 (or more) In return we will enter you into a raffle for a free dive package. Raffle tickets are $25 each or 5 for $100.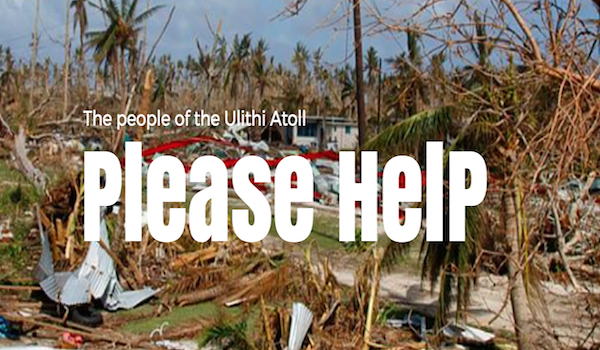 We will be raffling off 5 days of diving and 7 nights hotel (Palau Paradise Hotel) for two guests. Transfers are included. Airfare, food and beverage, and personal expenses are not included. Raffle winner will be randomly drawn on May 1, 2015
I personaly donated $300 and if I would win the grand price I will sell it to the highest bidder and will donate the money back to the people of Ulithi. Can you spare $25, it might become your best investment ever.
Click here to make a donation and to enter the raffle.